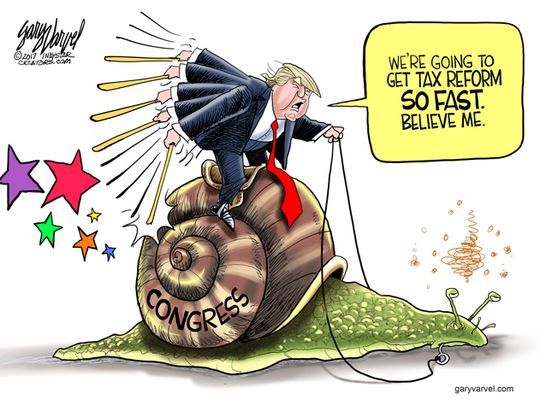 Trump Administration Provides First Peak at Tax Reform
September 27, 2017 - Posted by: admin - In category:
There was a lot of fanfare with today's announcement of proposed tax reform.  We will see (eventually) whether this is to become a "once in a generation" development or much ado about nothing.
MORE jobs | FAIRER taxes | BIGGER paychecks[1]
Tax reform has been promised for decades, by politicians on both sides of the aisle. Just those two words (tax reform) are enough to get the attention of most people.  Regardless of your political leanings (left, right or somewhere in between), you most likely believe that: (a) you pay too much in taxes; (b) the tax code is far too complex for the average person (or even a highly skilled account) to fully comprehend and navigate through; and (c) there M-U-S-T be a better way when it comes to tax laws, rules and regulations.
Senator Lauch Faircloth, North Carolina: "Our tax code is incomprehensible to all but a few tax attorneys who make their living off the current chaos created by our tax laws."
So at first blush, it would seem that there is a lot of area of potential common ground as the folks in Washington roll up their sleeves and begin the discussions about this latest set of proposed tax reforms. Then reality sets in and we realize that this is a very polarizing issue, among the most polarizing in D.C. (and in the nation generally). This is perhaps the biggest and oldest division between the two major parties. The Democrats have long campaigned on and preached the gospel of taxing the wealthy to pay for entitlements for the poor.  The Republicans have traditionally believed in and rallied behind such things as tax breaks for businesses, large and many deductions for the affluent, with the idea that such "trickle-down economics" principals would stimulate and support economic growth and prosperity for all.  In short, we have heard much, but seen very little, in this area of tax reform over prior decades in large part because such reform will knock at the door at such foundational beliefs of each party.
Senator Daniel Patrick Moynihan, New York (former chairman of the tax-writing Senate Finance Committee: "Tax simplification is something everyone is for but no one will do anything about."  When asked if he prepared his own income tax returns, he replied: "No, I wouldn't dare, wouldn't dream of it.  I would surely make mistakes."
With that lengthy introduction, it is significant that today, September 27, 2017, the White House, the Senate Committee on Finance and the House Committee on Ways and Means released the bare bones (i.e. with very little supporting details) of what they are jointly referring to as the Unified Framework for Fixing Our Broken Tax Code (nifty name, right?).  Not sure why they couldn't have just called it the "Tax Reform Bill"…but oh well.  For at least the balance of this post, I will just use Tax Reform Bill for short.  Also, given that this at least has the possibility of being historic if it actually comes to fruition, it is fitting that we note that today's announcement was the result joint efforts of the likes of Treasury Secretary Steven Mnuchin, Trump economic advisor Gary Cohn, House Speaker Paul Ryan, House Ways and Means Chairman Kevin Brady, Senate Majority Leader Mitch McConnell, and Senate Finance Chairman Orrin Hatch.
How would the Tax Reform Bill impact the average citizen of the United States? Great question. In summary, this proposed legislation (or, more properly, the outline of future proposed legislation) would:
Repeal the estate and generation-skipping transfer taxes (without mention of the gift tax);
Eliminate the deduction for state and local taxes;
Consolidate the number of tax brackets from seven to three, with rates of 12%, 25%, and 35% (at present, no details on who would fit within each bracket);
Significantly increase the standard deduction from its current amount to $24,000 for married taxpayers filing jointly and $12,000 for single filers;
Do away with personal exemptions for dependents, but then increase the child tax credit to an unspecified amount and increase the income levels at which the child tax credit begins to phase out;
Expand the child tax credit concept to give a $500 credit to anyone caring for a family member who isn't a child, regardless of age;
Repeal the individual alternative minimum tax; and
Eliminate most itemized deductions (including deductions for state and local income taxes), but retain tax incentives for home mortgage interest and charitable contributions.
The advertised benefits of these "reforms" for individuals are that collectively they will enhance and increase America's middle class by reducing their overall tax burden, leading to more available income for saving and spending (i.e., not required to pay so much in taxes—at least that is the theory).
Senator Robert Packwood, Oregon, (former chairman of the Senate Finance Committee): After receiving a letter from the IRS informing him that he was due a $50,000.00 income tax refund he says, "The thing that irritated me…is that I didn't know I was entitled to this… People think I know the tax law. I know the philosophy of the tax law. I don't know the details."
Here is how the Tax Reform Bill is supposed to affect American businesses:
Reduce the corporate tax rate from 35 percent to 20 percent (can you say trickle-down economics?);
Eliminate the corporate alternative minimum tax;
Limit the maximum tax rate for pass-through businesses—like partnerships, LLCs taxed as partnerships, and subchapter S corporations—to 25 percent instead of the individual tax rates
that currently apply;
Allow immediate expensing of the cost of new investments in depreciable assets "other than structures made after September 27, 2017" for at least five years;
Limit the deduction for net interest expense incurred by C corporations;
Eliminate the deduction under Internal Revenue Code § 199 for domestic production;
Make unspecified changes to modernize rules that give special tax treatment to certain industries;
Exempt the repatriation of foreign profits and replacing the current worldwide tax system with a complete exemption for dividends from foreign subsidiaries; and
Tax foreign profits of U.S. multinational corporations at a reduced rate and on a global basis.
Today's release sounds great in many respects. The overall message and theme is "less tax" being paid by all, and many taxes are just done away with in total (such as estate and GST).  Again, this seems to be nothing but good news, right? Well, the old phrase "the devil is in the details" will certainly come into play here. Today we were given the goals and objectives, but little or no details as to HOW such things will be accomplished and what will result from such things vis-à-vis the national debt, federal budget deficit, etc. Now the real work begins.
[1] These are the pillars of the Tax Reform outline published today, appearing on the cover page, right under the words "TAX REFORM" (and a miniature version of the American Flag).  Page 3 of the outline lists the "Goals" of the Tax Reform Bill, which include: Tax relief for middle-class families; "Postcard" simplicity for tax filings for most Americans (don't tell the accountants…?); tax relief for businesses, particularly small businesses; keeping jobs, capital and tax revenues in America; and broadening the tax base and providing greater fairness by closing special interest tax breaks and loopholes.  It is further noteworthy today that in announcing these things, President Trump went out of his way to say that the net effect of these proposals would NOT benefit the wealthy (such as himself and his family) nearly as much as it would benefit working class and middle-class Americans.  Lofty goals and praiseworthy objectives indeed.