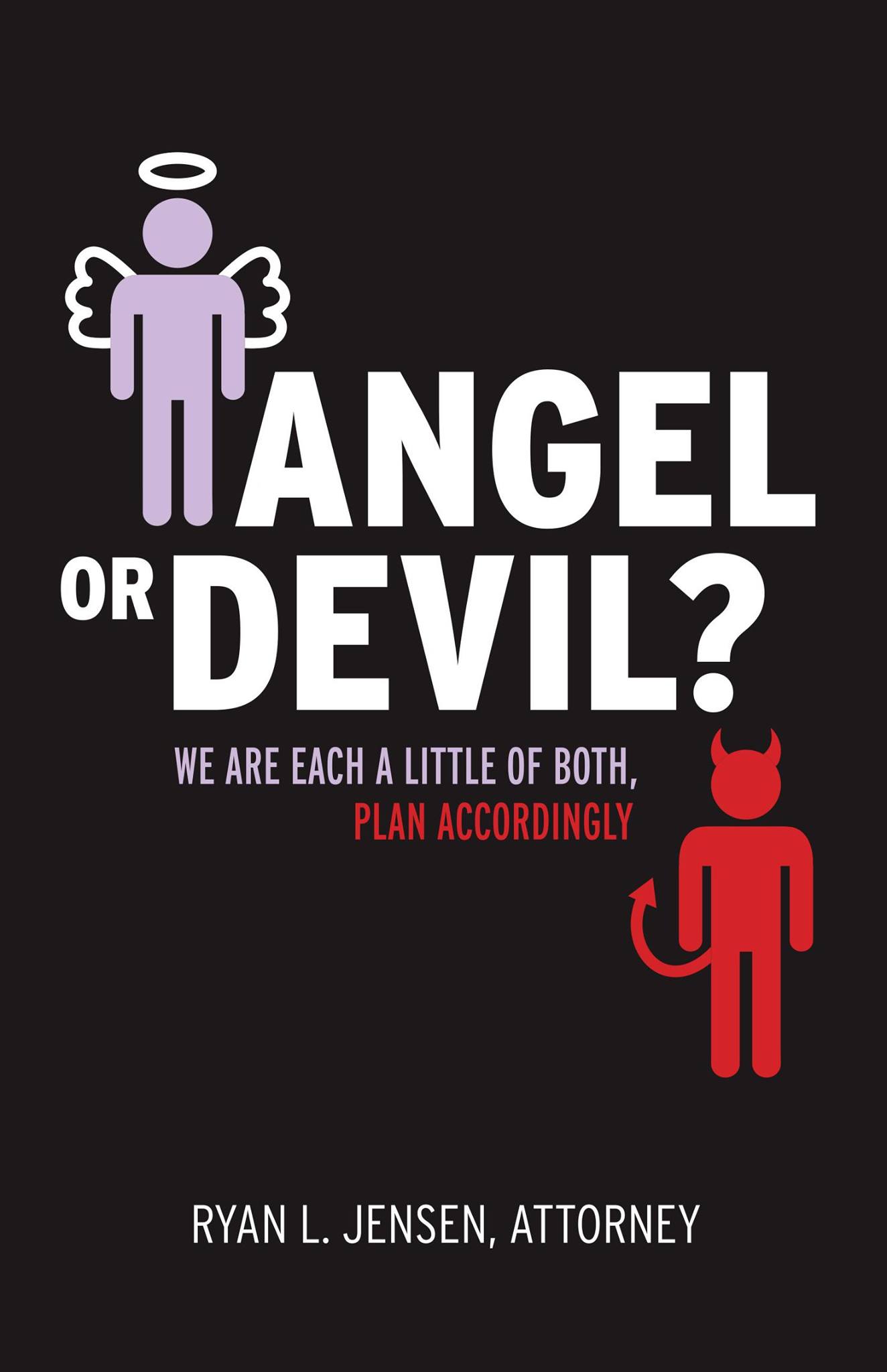 Angel or Devil Book
This new book is now available. While Ryan's prior book (20 Myths About Estate Planning) deals mostly with misconceptions about estate planning, this book is a more detailed discussion about practical subjects, including why and how to begin the Life Planning process. Contact us about how to get a copy of this book
What our clients say
Ryan was a pleasure to work with. He listened and responded quickly to all my questions.

Customer Service, Quality, Timeliness

Cheryl, Salt Lake City, Utah

It is with great pleasure that we write this note regarding our experience with Ryan Jensen in our Estate Planning.  After making an appointment with Ryan, he sent us two books that he had authored.  They were so well written and informative; we felt as though we really knew what we wanted and needed in our Trust. Adeline, Kaysville, Utah

Ryan was patient, extremely knowledgeable, and very thorough in guiding us towards creating all the facets (healthcare decisions, wealth transfer planning, successor trustees, long term care planning, and many more) of our plan. We are extremely satisfied with the final result. We highly recommend Ryan.

Ryan stepped into our situation at a very challenging time. My husband was dying from cancer and had very little time left. We were faced with making decisions relative to selling his business. When it was obvious that we could not meet in Ryan's office, he came to us. He quickly reviewed sloppily created business documents and family trust documents put them right. By…

I highly recommend Ryan Jensen.  We became acquainted with Ryan when he offered an information meeting on estates and trusts. We found him very knowledgeable and sincere. Since my husband had limited mobility Ryan came to our home to finalize and have the documents signed. My husband passed away very unexpectedly in March of 2015 and Ryan was and has been there for me,…

Ryan was very knowledgeable and interested in our particular situation as well as that of our daughter for whom he also prepared a trust.  He explained complex issues in an understandable way and he was very patient.

Ryan is very personable, yet professional and courteous. He has been quick to respond to our questions and concerns.  I would not hesitate in recommending Ryan to other family members or friends.

I have NO reservations in recommending Ryan Jensen to anyone- we had an excellent experience. We hired Mr. Jensen to help with our family trust and we couldn't be more pleased with the whole experience. He was so helpful, knowledgeable and patient from the first day to the last. He followed through on every single detail and went above and beyond in so many…

Ryan is a very competent attorney. He is very trustworthy and did a great job for my family and I with our estate planning. I highly recommend anyone looking for a specialized estate planning attorney to hire Ryan. He is great at follow up and making sure all documents are up to date and done correctly.

Ryan Jensen provided outstanding quality of legal assistance. I was greatly impressed with his vast knowledge & level of expertise in asset protection. He updated my trust & I am most comfortable with the estate plan now in place. I appreciated his extraordinary attention to detail, thorough understanding of federal & state law & prompt follow- through to completion of work. He listens, clarifies…

Very detail oriented, spent the time to explain advantages and disadvantages to each question or request concerning preparation of our Estate Planning.

Mr. Jensen is competent. He knew the law and was honest in his advise. Mr. Jensen is responsible. He did what he said he would do in a timely manner. I never felt any pressure from Mr. Jensen. He informed us and then left the decision up to us. He listened to my questions and responded thoughtfully. He went out of his way to…

Ryan worked with us to update our Living Trust. He was responsive to meet us at a location not at his office because the office was unavailable due to street construction. The finished product of the trust is comprehensive and understandable. he also quickly responded to follow up phone call questions we had.

I have worked with Ryan to set up an estate plan and a LLC. It has been a pleasure to work with Ryan Jensen. I have found him to be very trustworthy, knowledgeable and easy to work with. Ryan is quick to respond to phone calls and questions. I feel that Ryan has genuine concern for my family and my business. I have recommended…

Landon, Stansbury Park, Utah

We needed at new trust for our family. Ryan provided that trust for a very fair fee. He has been very easy to work with, and explains legal terms in plain English.